Zone/Flight
Serra do Caramulo
ALCOFRA: Orientation West / Northwest
Coordenadas 40 ° 8 ° 38 163 N 9411 W
.
natural turf,orientada a Oeste ever beaten a noroeste.
Note: We do not advise to take off over the wind 25klm / h to those who do not master perfectly the inflated technique (crossed)
.
Caramulo (Snow hill) Orientation East / Northeast
Coordenadas 40 ° 33 225 ° 10 737 8 N W
Artificial off, Oriented with synthetic turf East / Northeast
Note: We note-off in Alpine with little or no wind, make sure that everything is fine with the wing, small dimensions of this off all require attention and concentration at the time of peeling.
Off the ground
Orientada a Sudeste beaten a Sul
off landing east / northeast / southeast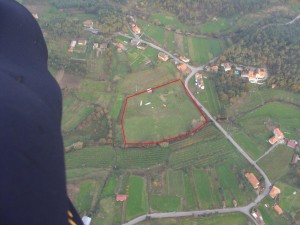 Note: The landing is in the area marked in red

.
.
.
.
.

off landing West / Northwest

Note: We advise you to lose altitude and at the beginning of landing, in order to enter the maximum with 5 m height over the beginning of the landing. Using the approximation technique in eight, relatively tight would be ideal. Talk to local drivers will always be a good solution in order to understand the maneuvers used by them.
GOOD FLIGHTS…